Parcels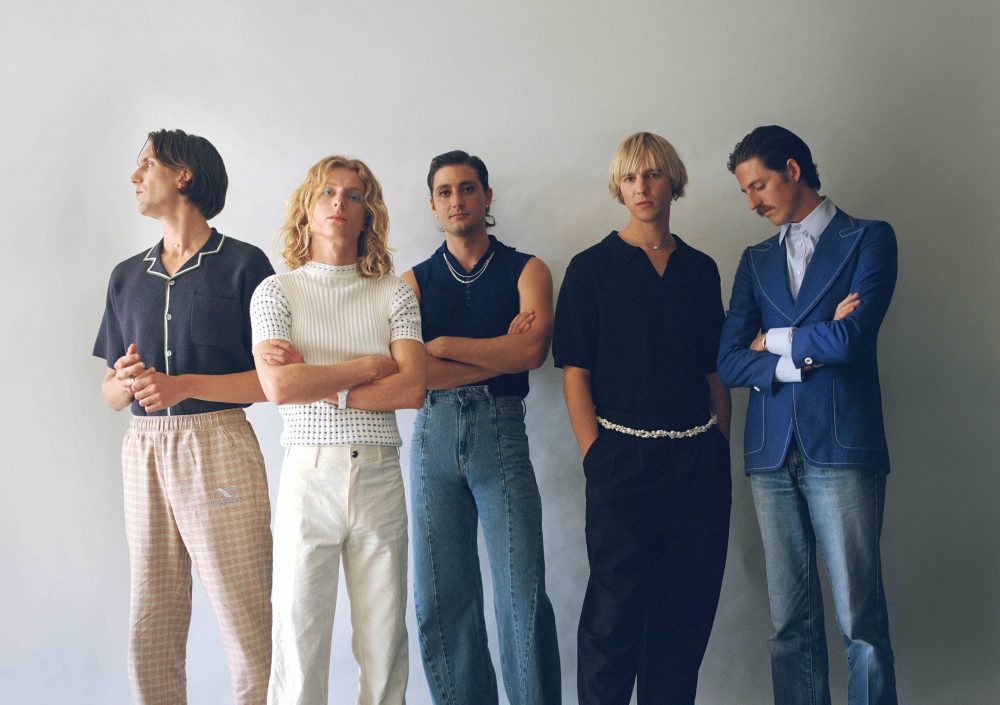 Parcels, the five-piece band from Byron Bay, have released their latest single 'Free'.  It is the first new original studio music to be released by the band since their acclaimed debut album Parcels (2018) and the subsequent Live Vol 1, featuring previously released material (2020).
'Free' features Parcels' trademark vocal harmonies, percussion-laced rhythm, and tight funk guitars. As the song builds, finally erupting euphorically, it evokes feelings of freedom, joy and sun-kissed optimism. The track cleverly shows traces of 70's nostalgia while sounding completely contemporary all at once. The lyrics reflect the longing for freedom and reuniting the band during lockdown, and also mirror the band's move from their home country of Australia to Europe, where they recorded the song.
Parcels is Louie Swain (vocals, keys), Patrick Hetherington (vocals, keys, guitars), Noah Hill (vocals, bass), Anatole "Toto" Serret (vocals, drums), Jules Crommelin (vocals, guitars). They formed in Byron Bay in Australia in their final year of high school.
After relocating to Berlin, Parcels released their alluring debut EP Clockscaredin 2015, which featured the spellbinding slow-burn of its title track. The EP led to signing with the attention of legendary French label Kitsuné in 2016, who released an excellent series of singles from the band in 2016 and 2017, including the gorgeous and moonlit 'Gamesofluck'.
In 2016, Parcels also played their first gig at Paris venue Les Bains, where Daft Punk's Thomas Bangalter and Guy-Manuel de Homem-Christo happened to be in the audience. The two groups struck up an artistic kinship, and Parcels spent considerable studio time with Daft Punk to craft the elegant, airy 2017 single 'Overnight', which followed the Kitsuné-produced EP Hideout and would be performed on Conan later that year for Parcels' U.S. television debut.  It was also notably the last production work by Daft Punk.
Parcels' self-titled debut LP was released in 2018, launching the group to new levels of critical and commercial visibility. A lush, exquisitely produced trip through the many intersections between pop and dance music, Parcels showcases just how tight and inventive the group's songwriting had become, with snapping rhythms and tricky basslines accompanying the group's feathery, flesh-and-blood vocals. Pitchfork took notice of their "slick grooves inspired by the hi-fi funk of 1970's AM radio," Stereogum said, "Parcels make some incessantly groovy tunes," while Paste raved the band is "tremendous fun" and "truly doesn't sound like anything else happening in music today," with NMEagreeing calling the band, "cheeky, timeless and devilishly fun."
With over 350 million streams on Spotify, appearances at festivals like Glastonbury and Coachella, and sold-out headline shows across the world, Parcels have already found great success on their winning approach to dance and pop music. And as the group currently puts the finishing touches on their ambitious second album, Parcels are focusing on what it means to be in tune with the world around us, as well as ourselves means being in tune with ourselves—a reflection of the creative process that brought them to this point.